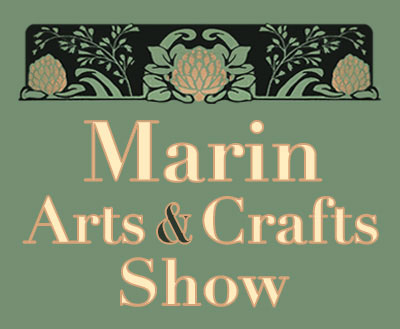 Marin Arts & Crafts Show was established by artisans who were inspired by the Arts & Crafts Movement. It is an artisan collaborative that is devoted to the artistic forms and techniques of medieval art –luminous color, careful detail, romantic symbolism, devotion to nature, and the rejection of industrialism and mass-produced goods.
Celebrating the handcraft of design, it brings together the traditional techniques, natural colors and sustainable materials that give design its remarkable strength. Exhibitors are carefully-curated and chosen for their handcraft skills and rejection of mass-produced products. The products include textiles, stained glass, furniture, ceramics, metalwork, jewelry, recovered architectural objects, repurposed wood and iron, clothing, artifacts, estate finds, photography, paintings and sculpture.
The 3-day show encompasses all handcrafted media, including lapidary, jewel smithery, glass making, ceramics, glass lamp work, fashion design, weaving, hand tooled leather, handspun yarn, felting, natural-dyed fiber, beadmaking, gem cutting, metalwork, embroidery, hand sewn clothing, and wearable art.
Exhibitors are chosen for highly-skilled handwork and use of natural materials, and include both traditional and contemporary artisans and high-quality tradespeople. Many have spent over forty years reviving lost styles, and using traditional tools and techniques to produce graceful handwork, and one-of-a-kind artisan design.
Show Details
Marin Arts & Crafts Show is open to the public, with no admission charge.
Fast Facts
Located at the Marin Center
Marin Veterans' Memorial Auditorium
10 Avenue of the Flags, San Rafael, CA 94903
March 1st through March 3rd, 2019
Open 10am to 6pm daily, Friday – Sunday
Free admission --register online or at the door
Special room rates available at Embassy Suites
Free parking at Marin Center
See Photo Gallery for samples of products
Location and Parking
Located at the Marin Center Exhibit Hall, 10 Ave of the Flags, San Rafael, CA 94903. The Frank Lloyd Wright-designed Marin County Civic Center is a national- and state-designated historic landmark. The 55-acre campus includes a park and a 14-acre lagoon adjacent to the Marin County Civic Center in San Rafael, California. Ample complimentary parking is available at the Marin Center during the show.
Hotel Suites are available at the Embassy Suites next door to Marin Center for a special rate of $155 per night. Book a room online!
Apply to Exhibit
Since 1992, Garan-Beadagio shows have promoted a wide diversity of exhibitors –with 2500 artisans and tradespeople having traveled from 50 countries to come together and exhibit their work. Attendees are numbered in the hundreds of thousands, and growing.
We are confident that each show offers a dynamic business opportunity, and If you have an interest in exhibiting, Apply Online or Contact Us. Early reservation is important –exhibit space is booked in advance.