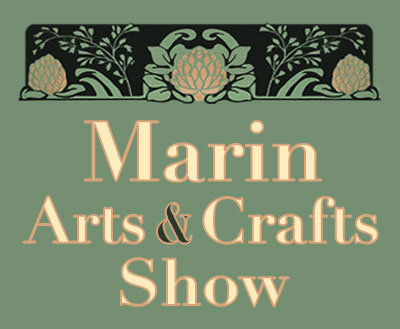 For 3 days the Marin Center Exhibit Hall will be turned into an Arts & Crafts Market -- 150 exhibits offering handcraft of design -- products devoted to traditional artistic forms and techniques  –luminous color, careful detail, romantic symbolism, devotion to nature, and the rejection of soulless, mass-produced decorative arts.

Each artist, artisan, handcrafter, jewelry maker, designer, woodworker, ceramists is juried on the originality of their work. Many have spent over forty years reviving lost styles, using hand tools, techniques, and an imagination that brings life to contemporary handcraft of design.

The show is a rare opportunity to shop for wonderful handcrafted objects, and buy direct from the people who create them, at excellent prices. Many high-quality, original, artisanal works are one-of-a-kind and offered for sale here --for the first time.

The show offers an outstanding variety of handmade home décor, accessories, antiquities, artwork and unusual items such as hand-dyed silks, felted hats, nomadic articles, hand thrown ceramics, hand turned woodwork, wood inlay mirrors, one-of-a-kind sculptures, champlevé jewelry, wearable art clothing.

It is open to the public, as well as to designers, retailers, and boutique owners --there is something for everyone who appreciates handcraft of design.

The exhibits encompass a vast list of artisan categories and products that are offered only at this show. Featured products include:

Clothing and Accessories: handmade clothing, wearable art, hand-sewn accessories, handcrafted bags, art-to-wear apparel, boutique clothing, felted hats, retro fashions, alpaca knitwear, collage pendants, art couture, head pieces, and natural-dyed silk scarves.

Artisan Textiles and Weaving: hand-loomed fabrics, traditional low-warp tapestries, woodblock fabrics, hand printed fabrics, handspun yarn, felting, upcycled fabrics, nomadic textiles, and bead knotting.

Jewelry & Glass Art: handcrafted jewelry, champlevé, opals, gold & silver handcrafted pieces, sterling silver jewelry, necklaces, bracelets, rings, pearls, amber jewelry, fusion jewelry, metalwork, enamel pendants, handblown glass art, fused glass and lampworked glass.

Home Goods and Furniture: handmade household goods, handcrafted lamps, conceptual art clay pieces, ceramic pottery, glass art, furniture, sculptural garden items, stained glass art décor, candles, designer textiles, rugs, wood working, bowls, gourd art, painted tiles, recovered wood and iron.

Vintage, Antique, Ethnographic and Collectibles: silver and gold items, glassware, vintage jewelry and clothing, artifacts, estate sale finds, art nouveau designs, vintage signs, vintage Hollywood jewelry, sacred textiles, collectible glass, ethnographic pieces, Taxco silver, and nomadic costuming.

Fine Art & Paper Arts: oil paintings, original fine art, watercolors, photography, limited prints, hand printed paper, paper arts, handmade cards, woodblock art, collectible glass art, and fiber arts.

Artisan Gifts: handcrafted gift cards, gourmet teas, handmade chocolate, pastries, toffee, natural soaps, handmade lotions, enamel gifts, lacquered boxes, candles, and unique artisan gifts.