Atelier
Marin Arts & Crafts Show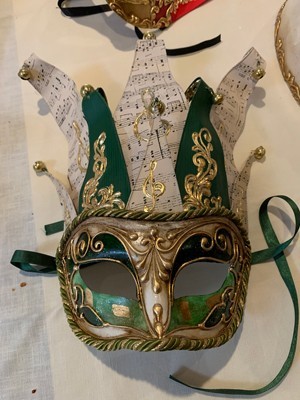 Venetian Mask Decorating II
November 16, 2:00pm - 5:00pm
Wearable Art Class By Leslie Hamilton and Joy Klein
Class Fee: $65.00
Kit Fee: $35.00 Includes mask blank, ribbons, trim, tulle, paint palette, brushes, crystals, beads, fabric, large feathers and more.
Skill Level: All
For a more experienced crafter/artist this class offers more extravagant materials and techniques to build on your own skills or those from the introductory class. These masks are both a personal statement and homage to the celebrations of Carnival, Halloween and Dia de Los Muertos around the world. Professional artist, Leslie Hamilton, will demonstrate and assist each student in decorative painting and other techniques on mask blanks to help you create amazing wearable art. Venetian masks, as well as photographs of others are there for inspiration. This unique experience is guaranteed a fun way and stretch your imagination and hone skills you already possess. Bring your old jewelry, scarves and bric-a-brac to personalize your creation or purchase elements at the show! Whether you're going to wear your mask or make it wall art, you'll love this class! This class is NOT recommended for children.
To register for this class, please click the button below...